California Single Malt Whiskey

Produced from unpeated UK malt at Sutherland Distilling Company in Livermore, CA, there were two barrels of Heritage distilled in October 2016. They were stored in two different American Standard Bourbon (ASB) char #4 casks until we vatted them. On the nose, you'll find vanilla, menthol, cedar, and wet oak. The palate is dry with a building heat that starts with a brief apple sweetness that gives way to brioche, toasted bread, hints of pear esters and more wet oak. Read more. Find a retailer.
---
East Bay Local Single Malt

Maiden Voyage is a uniquely Californian American Single Malt. The Metcalfe barley at the heart of this spirit was grown in Esparto, CA, malted at Admiral Maltings in Alameda, CA, and fermented and distilled at Sutherland Distilling in Livermore, CA. Bottled at cask strength, Maiden Voyage offers honeyed oak and brandied stone fruit on the nose, a midweight mouthfeel, and a honey-vanilla palate that dries to a long spicy finish of menthol and clove. Read more. Find a retailer.
---
Blended Guyana Rum from Molasses

Our Bulk Rum from Guyana is a pale gold blended rum with sugar, light caramel, and cake crust on the nose. The palate is full of chewy malt, oak vanillin, fruity apricot-apple esters, and a lovely cognac funk. This rum is just as good sipped neat as it is shaken up in your favorite cocktail recipe. Plus, we're doing our homework to source the most ethical rums on the market. Read more. Find a retailer.
---
Pucker-sour California Ume Plum Liqueur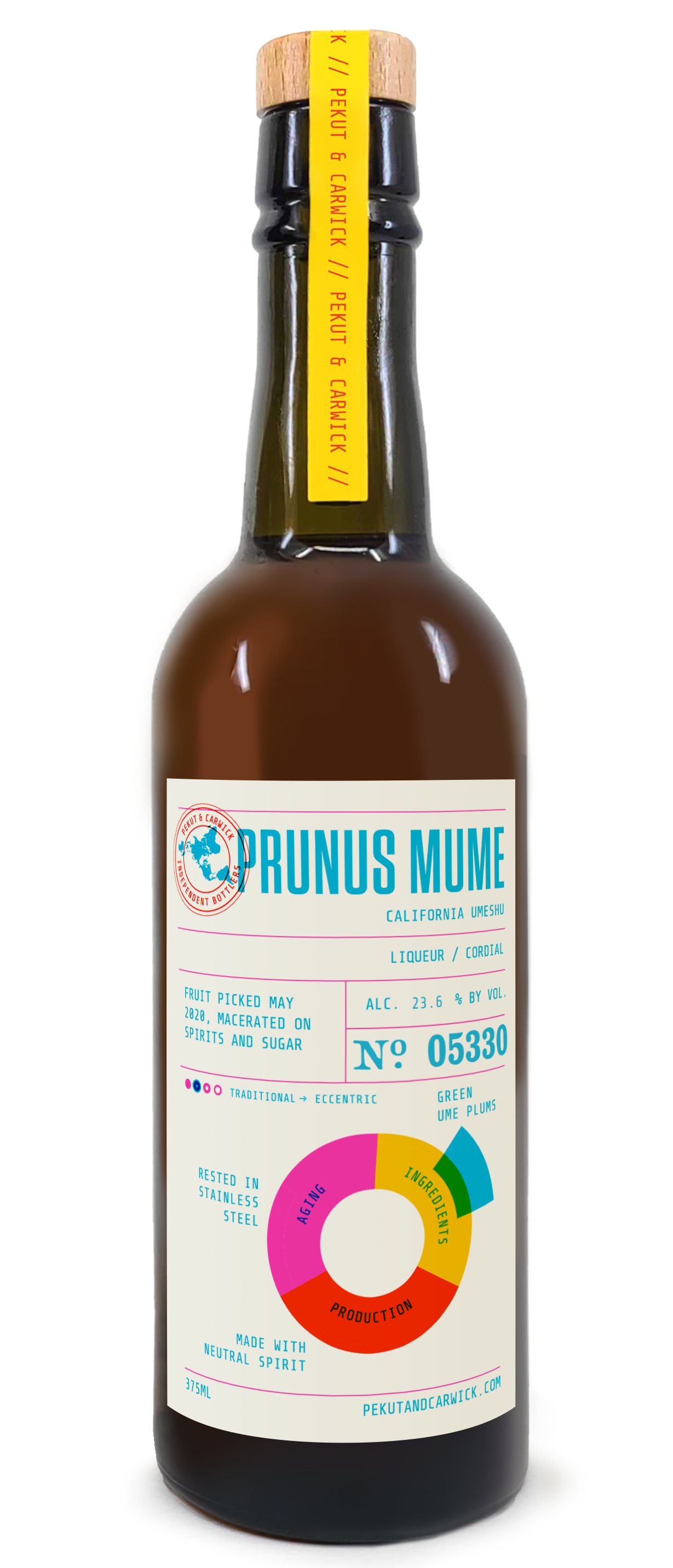 Prunus Mume is an ambrosial liqueur made from Japanese plums called ume (actually more closely related to apricots). On the nose you'll find marzipan, stone fruit, and tart pineapple hard candies. The sweet palate is perfectly balanced by the signature pucker of our tart, organic or no-spray ume, and the finish offers mouthwatering notes of chocolate taffy and lemon peel. Read more. Find a retailer.
---
California Vin d'Orange bitter orange liqueur
Our Citrus Aurantium Vin D'Orange is a Seville showstopper. Fresh, organic or no-spray Seville oranges are macerated in white brandy, vanilla bean, and a blend of chardonnay, pinot noir, and meunier from Hammerling Wines. The palate is all orange—orange peel, orange juice, orange marmalade—with a touch of grapefruit for balance and the vanilla, wine, brandy, and sugar playing a supporting role. Read more. Find a retailer.