The Rum Flip Is Your New/Old Holiday Cocktail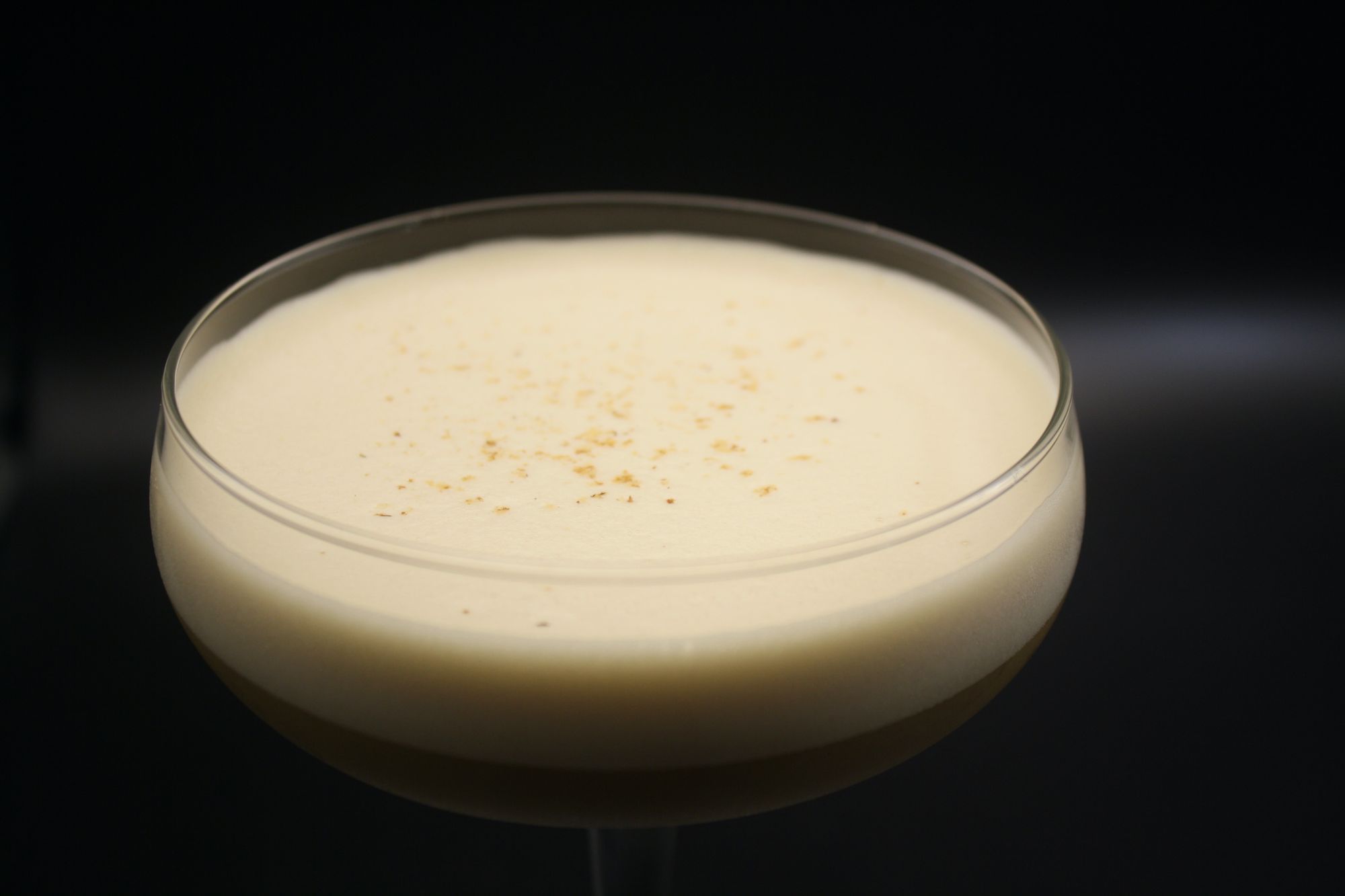 The days are short, the weather's cold
By tavern fires tales are told.
Some ask for dram when first come in.
Others with flip and bounce begin.
-from And a Bottle of Rum, by Wayne Curtis, excerpted from a 1704 almanac
To the uninitiated, the season may be early for a batch of holiday eggnog, but serious nogheads know better. If you want that aged crème anglaise consistency—a boozy custard nappe that thickens and strengthens the longer it sits—then you ought to start now.
But eggnog can be a bit of a commitment. Squeamish cooks shy away from separating all those raw yolks, not to mention aging them with cream and liquor for weeks, even months, in preparation for the holidays. Not to mention where you plan to store those eggnog bottles in a fridge full of party snacks, pie fillings, and thawing turkeys.
We've got a damn good eggnog shortcut that delivers almost all of those noggy elements we love—the slippery egg-y custard, the boozy punch—with none of the hassle. And it's not actually eggnog, so you'll get no sidelong glances for serving it out of season.
Friends, the Rum Flip is your new (and very old) holiday cocktail.
Colonial American innkeepers with excess rum and in search of a competitive edge dreamed up all kinds of concoctions to whet their customers' thirst. There was mimbo, a combination of rum, water, and shavings from a sugarloaf (the colonial version of our granular refined sugar). There was cherry bounce (rum and cherries). Rum could be mixed with warm milk and spices for syllabub, or vinegars and shrubs for more astringent libations. Every fruit, spice, and kitchen condiment of the day probably ended up in a rum cocktail, but the rum flip outshined all others.
Its popularity in 18th century colonial American taverns, "bordered on mania and would remain in demand for more than a century," according to Wayne Curtis in And a Bottle of Rum.
The original rum flip requires a hot poker.
According to Curtis, a basic 18th century flip began with a large heat-proof mug or pitcher full to about two-thirds of strong beer and sweetened with molasses or sugarloaf. Then, a red-hot, bulbous-tipped poker called a loggerhead plunged into the mix along with 5 ounces of rum, created a fizzing, foaming head (and hopefully no explosion!). The hot rum was then mixed with the beer solution and decanted into smaller flip cups, which Curtis posits could have held up to a gallon. Innkeepers experimented with all kinds of variations on the basic flip, but Curtis claims that the most famous flip was from Canton, Massachusetts, and incorporated cream, eggs, and sugar.
In our search for the authentic 18th century flip experience, we did our best to recreate the loggerhead action which Curtis attributes to the flip's success, due to the burnt je ne sais quois favored by American colonists, and which its contemporary English stovetop version apparently failed to provide. But the logistics of heating a poker are tricky at best when there's no raging hearth in your tavern/apartment, and a reliably food-grade loggerhead is hard to come by. Somewhat disappointed, we eventually quit torching kitchen utensils on the propane burner, and sought other methods.
In the end, we caved to our 21st century limitations and settled for gently heating the shaken cocktail in a saucepan, stirring until it was toasty enough for consumption. If ever we find ourselves in reach of a loggerhead and an open fire, we'll be hot-pokering ye olde-timey recipe quicker than you can say "flip". In the meantime, check out these more modern versions for your next winter gathering.
How to make a rum flip at home.
The best recipes for homemade flip in the modern (OSHA and FDA compliant) kitchen call for eggs, sugar, rum, and either dark beer or brandy. We've got two versions for you that are fantastic served cold. We also warmed them up in a saucepan, which was not our favorite, but maybe you're more hardcore than us.
Both of these recipes are extra delicious when you use our Guyana rum. The resulting texture is lighter than eggnog, and somewhat less sweet—both characteristics that we really enjoyed.
The Back Flip, from Meehan's Bartender Manual
1.5 oz Pekut & Carwick Bulk Rum
2 oz chocolate stout
0.5 oz demerara syrup
1 whole egg
nutmeg for garnish
Combine all ingredients in a large shaker and dry shake for one minute. Then add ice and shake for another minute. Strain into a coupe, garnish with grated nutmeg, and enjoy.
The P&C Flip (our riff on the Back Flip, but with an herbal spin)
2 oz Pekut & Carwick Bulk Rum
0.5 oz. B&B Benedictine and Brandy
0.5 oz demerara syrup
1 whole egg
nutmeg for garnish
Combine all ingredients in a large shaker and dry shake for one minute. Then add ice and shake for another minute. Strain into a coupe, garnish with grated nutmeg, and enjoy. Note: sub 50/50 Benedictine and aged brandy if you don't have B&B.
No matter if you choose cold and modern, or warmed over like a proper 18th century soak, either way send us a picture! Even better, tag us on Instagram.
Cheers,
P&C