SF Chronicle: "ume is going to have a big moment soon"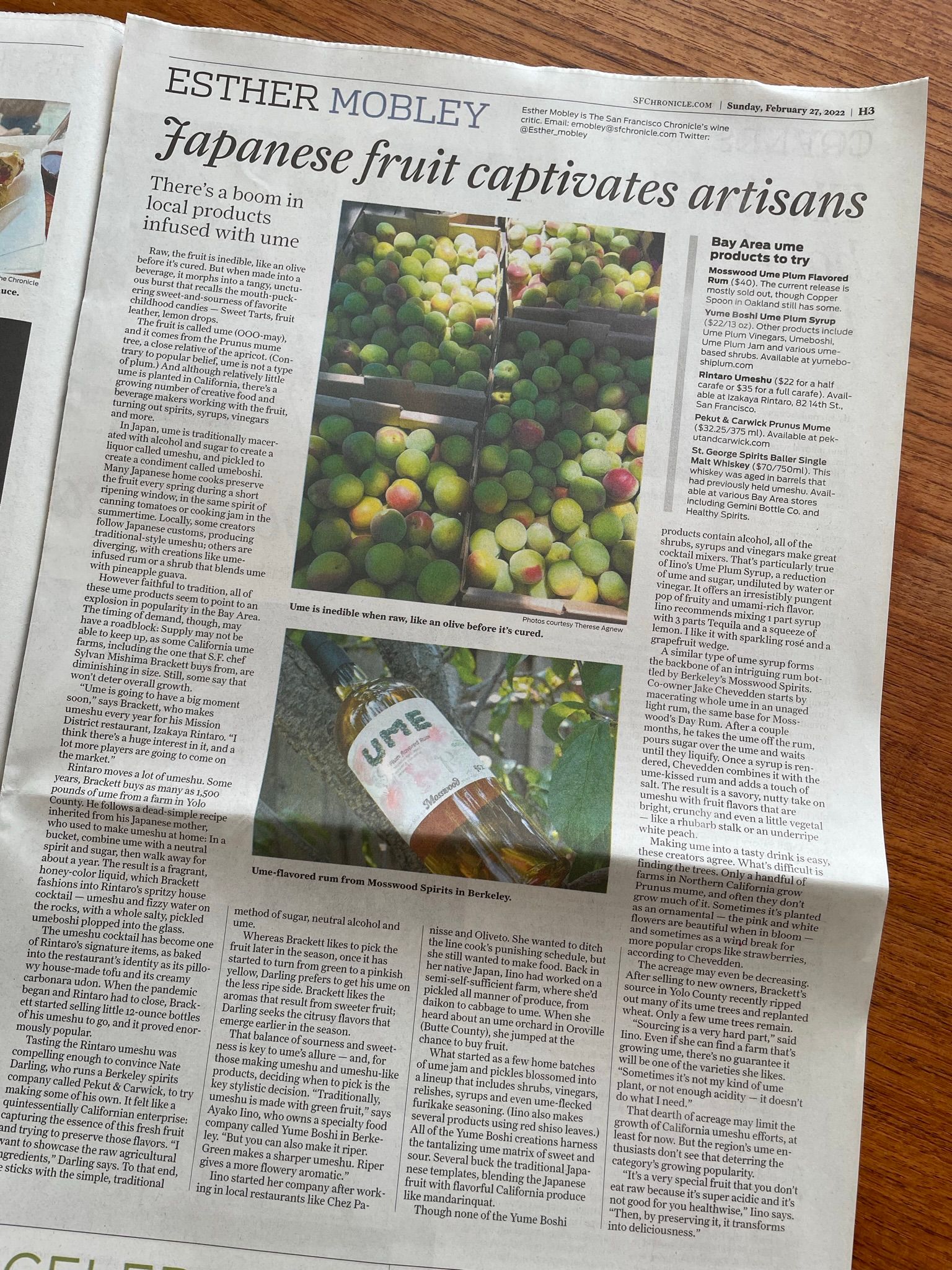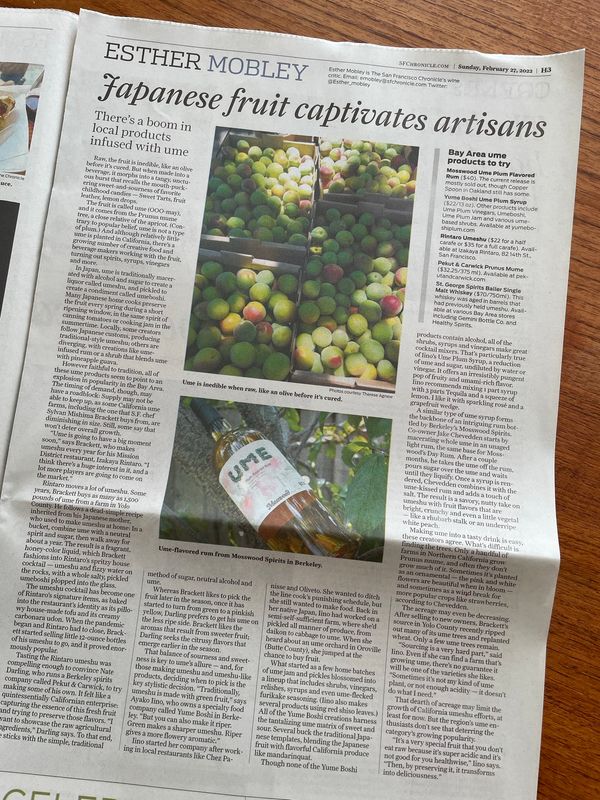 We've been singing the praises of our Prunus Mume liqueur since day one, so we were over the moon when Esther Mobley (the SF Chronicle wine critic!) reached out to us for a conversion about ume plums.
That's right, we're low-key famous!
If you want to know more about the ume craze that's sweeping California, you can access the article from the SF Chronicle here (in case you hit the paywall, we'll give you some of the highlights here).
Basically, ume is wonderful and more and more people are catching on.
It was cool to read about Bay Area chef Sylvan Brackett making umeshu. He's been in this game for a long time— it was his recipe that inspired our first tiny R&D batches (there are some great old jars still in the closet). But where he prefers the soft, ripe fruit and a sweeter flavor profile, we like the brightness, pop, and pucker that unripe green ume bring to our finished product. It's almost salty under all those candy and fruit flavors.
And then there's Ayako Iino's company Yume Boshi, which makes ume-based jams, shrubs, pickles— even furikake! Now you can stock your entire pantry with handmade ume products and that, as Martha would say, is a Good Thing.
There's even an ume rum made by our neighbors at Mosswood Spirits!
But it's not all sweet nothings in Mobley's story of the love affair we have with ume. There's a sour twist here, too:
Ume trees are hard to find.
Much like Seville oranges, ume are inedible raw, and they require processing (fermentation, sugaring, salting) to make them palatable. This makes them a hard sell for farmers in the sugar-happy U.S. fruit market (kind of sounds like our Seville oranges, right?). To boot, they set blossoms in late winter, so an inopportune California windstorm or a bit of hail (this happened here in 2020 and 2021) can knock out a whole season's worth of fruit.
As Mobley's article points out, one supplier in Yolo County ripped out most of their trees last year to grow wheat.
We source organic ume from a couple different folks in CA and, so far, we've had good luck finding fruit. Hopefully the SF Chronicle article will demonstrate the growing market for new growers out there, and you can help too— by supporting all of us professional ume enthusiasts.
Buy a bottle of our Prunus Mume here on our site (shipped to your door!) or at your local Bay Area bottle shop.