Hinterhaus Distilling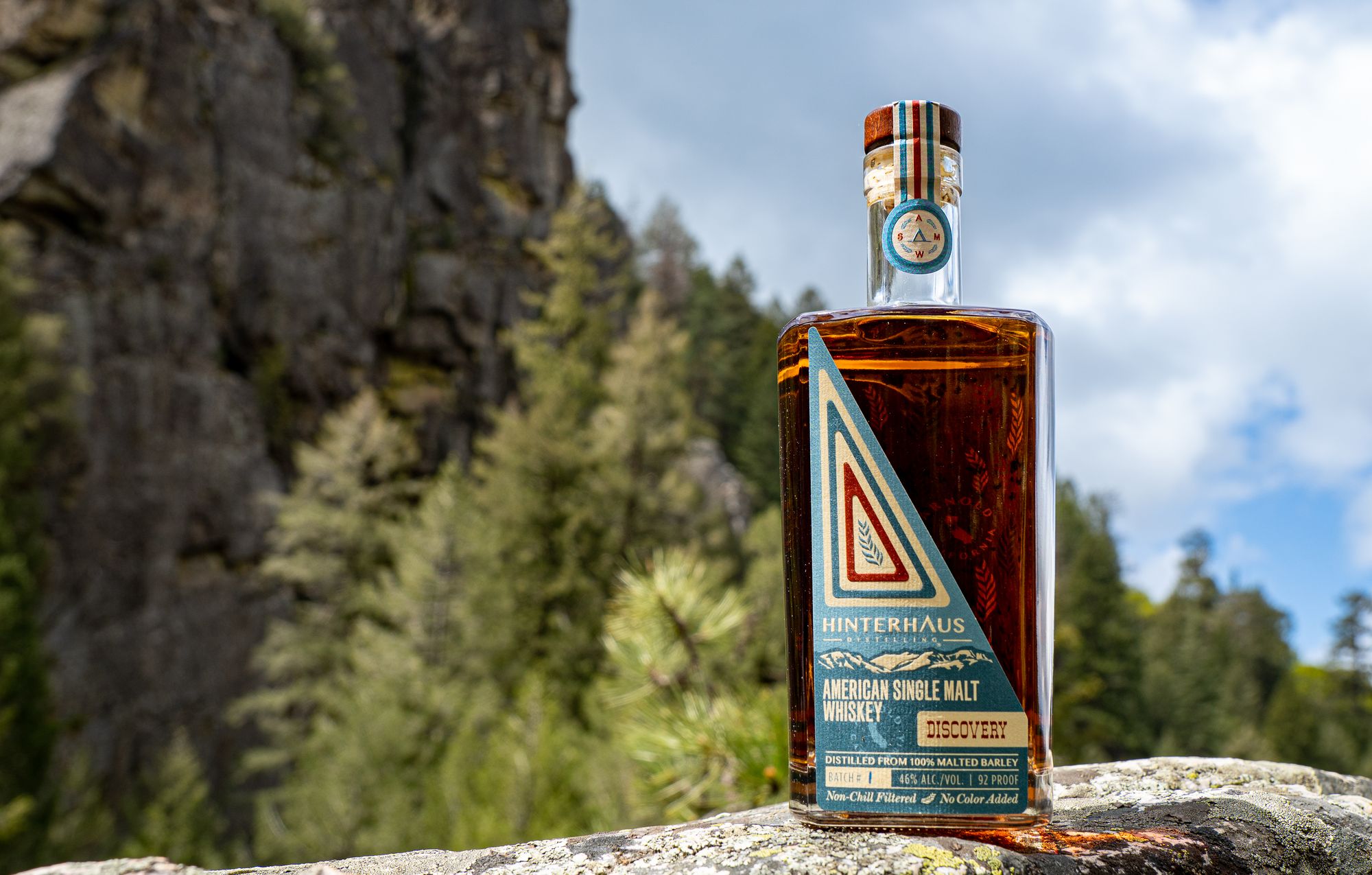 You notice the details when you walk into Hinterhaus Distillery: a big open fermentation tank just inside the rollup door, "Women in Whiskey" merch front and center at the bar, and the supple, permeating aroma of grape distillate. From first impressions, it's clear that Hinterhaus cares about quality spirits, about representation, and about cultivating a welcoming environment for everyone.
And it's not lip service: the single malt tastes like a Sierra single malt should—open fermentation invites local flora to influence the flavor profile captured in distillation, and the technique of lautering (removing the solids before distillation) highlights a softer, grain-forward palate. These methods aren't cheap or easy, but they make a uniquely local Sierra whiskey that's also worthy of its Celtic forebears. The marketing team and tasting room are led by women in an industry that too often defaults to gendered exclusion. And their products truly speak for themselves: vodka you can smell from across the table, a truly new take on bourbon, and single malt searching for Sierra terroir.
This is all by design, much of which is Bonnie Boglioli-Randall's. She is the co-owner of Hinterhaus and mastermind behind its marketing and front-of-house operations.
Boglioli-Randall and Nate Randall lived and worked in the Bay Area for a decade before they began to tire of city life. "We wanted to get off the hedonic treadmill in metropolitan areas, just getting by and working for the weekend," she says. During a camping trip to nearby Big Tree State Park, they discovered the town of Arnold and began to envision a life away from the madding crowd. "There is a real sense of place in small communities," says Boglioli-Randall, "and people really do look out for each other because we have to. We're all in this together."
But change begets change, and not long after the Randalls moved to their A-frame cabin in the woods near Arnold, Nate began contemplating new professional horizons. Years of home brewing had whetted his appetite for more complex methods of alcohol production, and his consulting business had trained him in the ways of entrepreneurship. The sleepy town of Arnold was already a destination for nature-loving tourists, but there were few indoor spaces in town for visitors and locals to gather, something particularly important in a region where the mountain weather can be nasty, cold, and wet.
Nate began discussing the possibility of opening a distillery with Boglioli-Randall, whose extensive experience in hospitality and marketing, along with a knack for logistics, allowed them to approach the budding idea from every angle. As a plan took shape, the Randalls also realized that they were surrounded by the resources to make exceptional spirits, like pure water from snow melt and estate wineries with an excess of good product.
The Randalls installed their hybrid pot still in early 2020. By March, after more than two years of plotting, testing, and building, they opened Hinterhaus Distilling–just in time for pandemic lockdowns. They kept their sparkling new tasting room shuttered to facilitate social distancing, and set up a table in front of the entrance, selling bottles to an unexpectedly long line of spirits enthusiasts who made the pilgrimage for the opening.
It was a tricky business, selling spirits to customers who couldn't sample because of COVID restrictions, but Boglioli-Randall says there was a silver lining to this challenge. She ended up scrapping her original labels for a more visually rich design to entice purchases based on sight, rather than taste. Her gamble has paid off, and their elegant packaging has eased open new distribution channels they weren't even contemplating when they first opened their doors.
Hinterhaus released North Grove Vodka first, a common strategy for early stage craft whiskey producers. But while characterful vodka seems to be gaining traction in the spirits industry, what makes Hinterhaus's vodka so unique is its fidelity to the original raw materials: cotton candy on the nose, hints of vanilla on the palate, and a silky mouthfeel that only comes from distilling big-bodied wines. Nate Randall, who leads the production team, sources bold, sulfite-free red wines like Cabernet Sauvignon from neighboring vineyards. He also exclusively uses hearts cuts for the vodka (the gin gets wider cuts) because, as Boglioli-Randall puts it, "in vodka there is no hiding anything."
Hinterhaus's American Single Malt Discovery is fermented in an open tank, which allows wild flora to mingle with the yeast they pitch. Open fermentation is a time-honored whisky maker's technique used to pursue both local and seasonal flavor characteristics. The name "Discovery" is a reference to another great thing that Hinterhaus are doing: every batch is a new step towards what a true Sierra Nevada single malt might be. The batch you'll find on shelves today has soft malt characteristics, clove, and cinnamon on the nose, and layered flavors of salted toffee and chocolate, with a pear cobbler finish. New batches will be different, and Hinterhaus isn't just unapologetic, they're celebrating the variety.
It's these elements of curiosity, exploration, and flexibility which set Hinterhaus apart, and their award-winning Calaveras Cask Bourbon is no exception. Nate Randall will be the first to tell you that they don't distill their bourbon on site (and why would you? There are so many good bourbons out there). By selecting barrels from other producers, they're ensuring an unencumbered supply of raw materials. By finishing the bourbon in wine barrels, they are able to bring to market a new and distinctly Hinterhaus flavor profile: big, juicy, and redolent of ripe berries.
What makes Hinterhaus truly unique is their holistic attention to *all* the distillery operations, not just the sexy ones. We love the label design, we love the evocative Sierra location, we love the shiny hybrid still. But even more, we love that they're building a business on sourcing models that are innovative, scalable, and realistic; on nuanced techniques like open fermentation, elevage (a term for more attentive barrel aging), and slow proofing; and on inviting more people into a whiskey world where expertise is ungendered.
Now that COVID restrictions are a thing of the past (knock wood), Hinterhaus offers tours and tasting flights along with a seasonally changing cocktail program spearheaded by Boglioli-Randall and her small staff of talented mixologists. One of the most popular cocktails on the menu, the Army Navy, is a revived 1920s classic combining South Grove Gin, orgeat syrup, lemon juice, and frothy egg white, served up. The 3-hour drive from the Bay Area up to Hinterhaus is totally worth it.
In the Bay Area, you can find their spirits at The Rake and Craft Wine and Beer in Alameda, Ledger's Liquors and Northbrae Bottle Shop in Berkeley, and Bentley's Container Bar in Martinez.